The Creators of the Joshua Tree House Wrote a Guide to Desert Living, And We Can't Put it Down
We've been obsessing over the cacti-clad landscape of Joshua Tree National Park for an embarrassing amount of time now. Yes, we've even taken detours en route to Palm Springs just to get a glimpse of the romantic desert we're seeing all over social media.
Think massive rock formations and majestic Joshua trees, this iconic desert is home to one very stylish space we bet you're already following on Instagram. The Joshua Tree House, made famous by its dreamy, desert-inspired decor, is where Sara and Rich Combs, full-time web-designers turned desert-dwellers, turned a dated space into their new home and Airbnb. Yeah, you heard that right; we don't have to rest in envy scrolling their feed. We're able to book a desert stay at the popular rental.
Their Instagram hits all the right notes with its magical desert landscapes, blooming cacti, thoughtful tablescapes, and warm, Moroccan-inspired interiors. With natural materials and lots (and lots) of texture, we're already trying to recreate these looks in our own city-entrapped homes.
If you've ever considered trading in your fast-paced lifestyle for one more simple and intentional, you're not alone. That's exactly how Sara and Rich found themselves in the heart of the Mojave Desert in pursuit of a more meaningful life.
At one point or another, you've probably found yourself enamored at the idea of life in the desert of Joshua Tree. Sure, that fascination has likely been brought on by the idyllic Instagram photos of the recognizable park, but there's something undeniably alluring about the idea of waking up with sun and ending the day with a starry desert sky. Lucky for us, Sara and Rich aren't keeping their desert-lifestyle secrets to themselves. The couple's first book, "At Home in Joshua Tree: A Field Guide to Desert Living", is now available for those of us daydreaming of that free-spirited, laid-back desert lifestyle.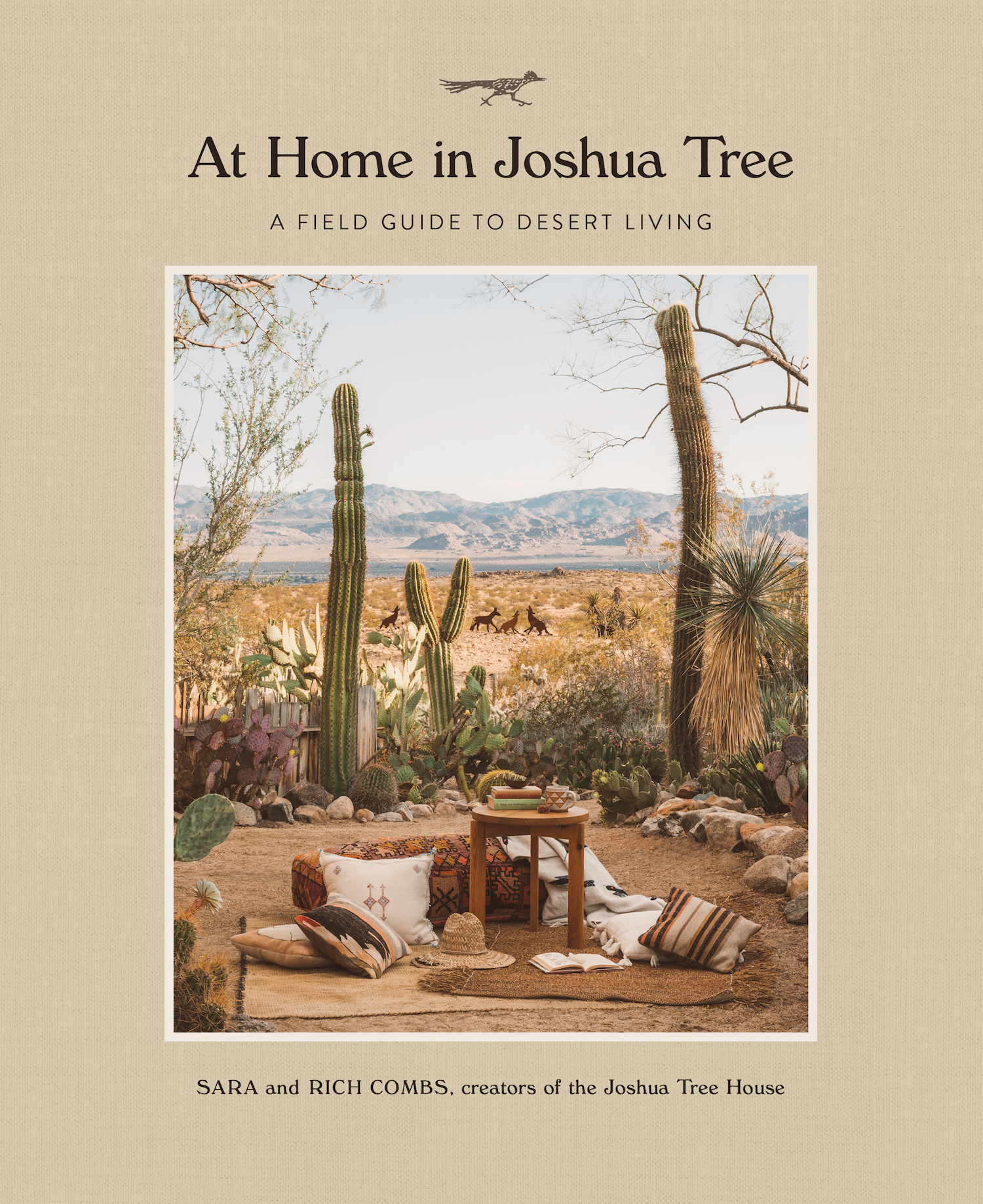 We had the chance to peek at the book before its release, and let's just say, we're trading in our succulents for cacti. "At Home in Joshua Tree" emerged from a desire to share a lifestyle guide to make desert living attainable, even to those of us stuck in a city. Here, they detail how to achieve their signature desert-inspired interior style, methods to slow down and simplify your life, rituals and practices to focus on more intentional living, and our favorite, a full Moroccan rug guide (yes, please).
Utilizing rich, earthy tones alongside bold patterns and textures; the couple has coined a desert aesthetic that's remained true to the surrounding area. Their oasis brags worn woods, textiles, vintage finds and sprawling views. "We love keeping things clean and simple, but it's got to be cozy with layers of textiles and natural materials," Sara tells us. "Those elements make a house feel like a home in our opinion."
The book delves in to their "design mantras" to help readers realize this simplicity in our own homes. Here, they teach us how to curate a home that enhances with use, and describe why it's important to always design for ordinary experiences. The book provides a detailed breakdown of each mantra, and exactly how to master them.
Another tip to achieving that desert charm in our homes? "Don't forget the plants," Sara adds, "but make sure they're the real ones. We love filling our spaces with cacti to reflect our exterior environment. We often look out to the surrounding natural environment for inspiration."
Letting the desert landscape shine was of huge importance to the couple in the design of the space. "Our main goal was to let the exterior environment steal the show," she says. "We chose decor and furniture in neutral palettes to extend the outdoors in and frame our view of the desert."
Instead of wasting any leftover material in the renovation, Sara and Rich repurposed as much as they could in the design of the new space. Even their wood dining table is repurposed, made by Sara's father-in-law from wood that previously covered their hallway walls.
"We didn't want to complicate the space by adding furniture, so we created our own built-ins, like our built-in dining bench that we made from wood and plaster," Sara tells us, on simplifying their design process.
You'll notice a running intention throughout the book to "slow down, enjoy the view", which we're keen to apply to our often-chaotic lives. Slowing down may seem like an unachievable task, but Sara gave us a simple practice to accomplish that intention every day. "Make it a point to watch the sun set every day, even if only for a minute or two," she tells us. Amen to that.
There's one sentiment from their book that we immediately jotted down in our Notes app. "Busy days do not necessarily make meaningful ones," Sara writes. "The desert has taught us to multitask in the laziest of ways so that each moment can be slowed down while still accomplishing our goals."
Sara left us with a tip to mastering the desert lifestyle. "Go with the flow (or in more desert-appropriate terms: go with the winds)," she explains. "The desert is an extreme environment, and adapting to its toughness has pushed us forward. Any time we've resisted the power of this place, it pushes us back just a little bit harder."
photos by Sara & Rich Combs